How Do I Avoid the Three Biggest Estate Planning Mistakes?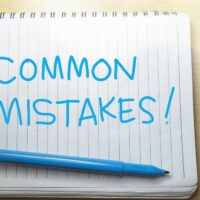 After you die, your last will and testament must be approved by the local probate court. The judge will determine if the document is the last will of the deceased, review the inventory of the estate and confirm who will administer the estate proceeds. It's known as "executing" a will.
Wealth Advisor's recent article entitled "Avoid these 3 estate-planning mistakes and make probate cheaper and easier for your loved ones" discusses some mistakes that people make and how to avoid them.
You don't have a will, or you have a will that was written in another state. You also should have a current will. Life changes, and you need a will for where you live in now. Residency is defined differently in each state, and an out-of-state will delays the probate process, because it fails to satisfy state requirements. Worse yet, it may even be declared invalid.
If there is no will, the deceased is said to have died "intestate, " and his estate must go through probate. However, an administrator will be named by the judge to distribute assets, according to state law. It can be a lengthy and often costly process.
Some people don't want to hire an attorney to create their estate plan or write a will, because they believe it's too expense or they never get around to doing it. However, if you die without a will, the legal costs will be even more and that will be paid by your estate—that decreases what's left to give to your heirs.
Mixing up estate taxes with probate. Your estate may be too small to be subject to federal tax, if it is less than the $11.58 million exemption. However, you still will be subject to probate and possibly a state estate tax. In Massachusetts, the exemption is $1 million. Therefore, you still need an estate plan.

Disregarding easy things to keep some assets from probate. Most states have a "mini-probate" that is expedited for small estates. With this process, heirs may have fewer fees, less paperwork and shorter waiting.
You can also create a living trust (revocable trust) to avoid probate altogether, if done correctly. This is a legal vehicle to which all of your assets pass upon your death. Ask an estate planning lawyer to help you create a trust, because they can be complicated. Whether you need a trust, a will, or both, an experienced estate planning attorney has worked through a variety of situations and will have sound and creative ideas. Investing time and money with an attorney makes life easier for you now and for your family later.
Reference: Wealth Advisor (Feb. 18, 2020) "Avoid these 3 estate-planning mistakes and make probate cheaper and easier for your loved ones"