I'm a Fiduciary—What Does That Mean?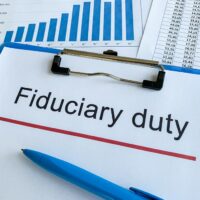 There are any number of pitfalls that may occur when administering an estate, a trust or another person's finances under a Durable Power of Attorney (POA). Fiduciary duties are the highest under the law, and the fiduciary is legally required to put the interests of the person they are representing above their own. The most common problem for a fiduciary is not taking their responsibilities seriously enough, says the article "What does it mean to serve as a fiduciary? from the New Hampshire Union Leader.
You can avoid some common pitfalls, if you keep the following in mind:
Know the governing instrument. A fiduciary must abide by the terms of the governing instrument, which might be a Durable Power of Attorney (POA), trust, or another legal document. The powers you hold are limited to those granted in the document. There are times when even though you have a power or the ability to do something, it's not in the best interest of the grantor. Let's say the trust gives you as a trustee the power to make distributions to a beneficiary. If the beneficiary has sufficient independent resources, doing so might be a breach of your duties. In the same way, the ability to make gifts that is given by a POA, doesn't mean you should automatically start making gifts.
Maintain extremely detailed records. Do this for two reasons. You have a duty to do so, and you need good records in case anyone claims that you did something wrong. Make sure that your records have enough details so that any expense or expenditure can be documented and explained.
Transparency is the best approach. Every situation is different, and family dynamics differs, but if you can, speak with family members before making any transactions. If they object, you can decide whether or not to proceed, or to petition the probate court to give the court's blessing in advance. In this case, it is better to ask permission in advance, than ask for forgiveness after the fact.
Never mix your personal or business funds with that of the estate. This is one of the biggest problems for people who have never been a fiduciary before. If you are a fiduciary for more than one estate, then you'll need to have funds and property completely separate from each other.
Fiduciary duties need to be treated with great care to avoid any liability and litigation. If you are not prepared to be a fiduciary, you could decide to decline the role. Speak with an estate planning attorney, if you have any reservations about taking on this responsibility.
Reference: New Hampshire Union Leader (December 7, 2019) "What does it mean to serve as a fiduciary?
Suggested Key Terms: