Saving for Retirement: It's Never Too Late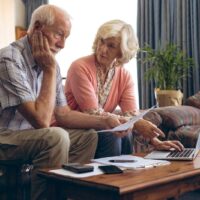 Maybe you haven't looked at your 401(k) statement in a while, but if you have and it doesn't seem like it will be enough for retirement, don't panic, says Bloomberg in the article "Bigger 401(k) Contributions Are Easier for Empty Nesters." How is that possible, when your car needs to be replaced soon and your youngest child is a freshman at a private college?
We all wish we had taken the advice printed in the 401(k) materials we got at work long ago: be disciplined about savings, put away 10% of your income and maybe 20%, if you can manage it. Every time you get a raise, increase your savings. The longer you wait to save, the more likely you'll be among the millions of Americans struggling to maintain their lifestyle in retirement. You've heard all this. It was great advice. However, those recommended percentages are difficult to do.
It is little wonder then that the average combined 401(k) IRA account balance for American working households in 2016 is about $135, 000, according to the U.S. Federal Reserve. That would equate to a household income of $600 monthly in retirement. It is not quite enough to maintain your lifestyle, is it?
Before throwing your hands up in the air, consider that you are far from doomed. Instead, take the opportunity to build your household finances, by continuing to work. This is especially true, if you are an empty nester. The number one solution to a successful retirement, is working longer. Even a few years can have a large impact.
Empty nesters who are still working are in the best position of all. The cost of raising children is expensive. Well-off married couples with a child born in 2015 can expect that child to cost about $372, 210 from birth to age 17 (that's in 2017 dollars), according to the U.S. Department of Agriculture. When the children are out of the house, cash flow changes.
If you can keep working, and if the children can become financially independent, your retirement saving should be able to shift into higher gear. The most important thing for empty nesters is not to get comfortable with the new cash flow, when the children move out. Instead, put away more.
Working longer has now become increasingly common. The civilian labor force participation rate of Americans ages 60-64 increased to 57% in 2018, from 44% in 1987, according to a report from the Brookings Institution.
Knowing that there's time to save for retirement later in your career is liberating and not as difficult as saving while the children are still with you. There is time to restore your finances, if you take the right steps when the time is right.
Reference: Bloomberg (April 8, 2019) "Bigger 401(k) Contributions Are Easier for Empty Nesters"