Should I Get A Power Of Attorney?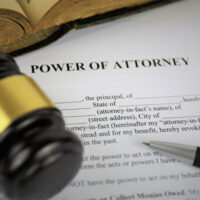 One of the cornerstone documents in any comprehensive estate plan is a power of attorney. This document allows someone to make decisions in your best interest when you are unable to do so yourself. At Fisher Law in Norwood, our experienced and knowledgeable estate planning attorneys can explain the benefits of naming a power of attorney and help incorporate this into your estate plans. To learn more about your options, call the office or contact us today to schedule a consultation.
Why is a Power of Attorney Important? 
A power of attorney is someone who has the power to make financial and legal decisions for you in situations where you are unable to communicate those choices yourself. . While many people think about this only affecting us in our twilight years, in reality an accident or illness can happen at any time, and it is important that your loved ones know who should be making decisions when the unexpected occurs. 
Who Should Be Named? 
Time and care should be taken when naming a power of attorney. When a power of attorney is enacted, this person has considerable leeway to make significant decisions that could impact you and your estate permanently. A person named as power of attorney should have an understanding of your choices and of the state of your finances. It should be someone that you trust to make every decision in your best interest and not their own. In many cases, a spouse, family member, or trusted fiduciary like a lawyer or financial advisor is named as a power of attorney. It is also prudent to name a backup power of attorney if something arises that makes the first power of attorney unable to perform the duties of the role. 
Actions a Power of Attorney Can Take 
There are many different decisions that a power of attorney may need to make if you are incapacitated. Some examples of the financial and legal decisions that a power of attorney may make include the following:
Make payments from your financial accounts for bills, mortgage payments, and utilities
Deposit funds into financial accounts,
Pay bills for hospitalization and medical treatment,
Buy or sell real estate and personal property,
Determine where you will receive care, such as a nursing home or long-term care,
Prepare and submit taxes,
Pay for the maintenance of your home, vehicles, and other property,
Apply for benefits in your name, and more.
If you are interested in learning more about what a power of attorney does, talk to our office today. 
Call or Contact Our Office 
Naming a power of attorney is an important decision for your estate plan, and the skilled Norwood estate planning lawyers at Fisher Law are here to help you understand your options. If you are interested in speaking with a highly qualified attorney, call the office or contact us to schedule a consultation of your plan today.
Source:
law.cornell.edu/wex/power_of_attorney#:~:text=A%20power%20of%20attorney%20is,are%20fiduciaries%20of%20their%20principals.