What Is The Business Succession Planning Process?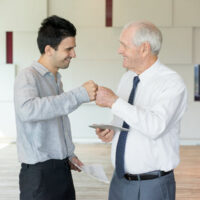 If you are a business owner and are getting close to retirement age, you may consider transferring your ownership to a trusted family member. This process is often referred to as "business succession planning." The following article will further explain the purpose of a business succession plan and will provide some information regarding the planning process.
What is business succession planning?
Similar to estate planning, business succession planning is a process that allows the owner of a company or small business to transfer ownership of the entity to a family member either at the time he retires or at the time he dies. This planning process can be very beneficial, as it allows a thriving company to continue to remain in business instead of being sold. This process also allows an owner to keep a company within the family instead of having to transfer ownership to outsiders.
What is involved in the planning process?
The business succession planning process typically includes the following steps:
Determine the type of plan you need. You should consider your motivations for engaging in this kind of planning process. Clarifying your reason for developing a succession plan will help you construct a plan that truly meets the needs of your business.
Organize a succession-planning team. You need to organize a team of people within your business to actively participate in the succession-planning process. Specifically, you should select people who are process-oriented, effective communicators who are knowledgeable about job competencies and competency development.
Identify the main factors that will influence your plan. You will need to anticipate any factors that may influence the success of your succession plan (for example, changing trends occurring in the marketplace that will require new competencies in key positions).
Link your succession plan to your organization's overall strategic plan. Your overall strategic plan tells people exactly what your organization is about, where it's going, and how it will get there. If your business succession plan is out of sync with your overall strategic plan, your succession plan will likely fail.
Identify sources for successor candidates. You will need to develop potential candidate pools. In order to do that, you need to spell out the competencies (talents, skills, and knowledge) required for each key position. Then, after you've identified the competencies required, you can determine where you can find these individuals. They will come from two major sources: The first source is internal; many people in your organization likely already have the required competencies. The second source is external, such as employment agencies, internet job boards, professional association websites, and job fairs.
Develop action plans. After you create the succession plan, you need to translate it into a concrete action plan, with measurable goals, specified timelines, and people who are accountable for taking specified actions. Additionally, the implementation of your plan needs to be continuously monitored by your succession-planning team, evaluated on an ongoing basis, and adjusted as needed for unexpected events in order to ensure its success.
Do You Need Help Creating a Business Succession Plan? Speak to a Norwood Estate Planning Attorney
If you are considering creating a business succession plan but you need additional help, the experienced Greater Norwood estate planning attorneys of Fisher Law LLC can provide assistance to you throughout the process.