Can I Sue A Nursing Home For Negligence?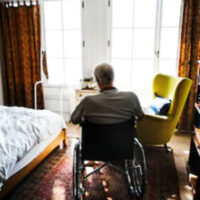 The following article will provide some helpful information regarding whether a person can sue a nursing home facility and/or its employees for negligence.
What types of actions are considered negligence in a nursing home setting?
You are able to sue a nursing home facility and its employees for negligence regarding their residents. For example, if your parent is a resident at a nursing home and you suspect she is being neglected by the facility, you can sue the facility on her behalf. The following types of actions are considered negligent in a nursing home setting and give rise to a legal claim:
Failure to keep premises reasonably safe and free of hazards: The facility can be liable for any injuries that result from hazards present on the premises that they were either aware of or should have been aware of.
Negligent hiring: The facility can be liable if it hires an employee who ends up neglecting, abusing, or otherwise intentionally harming a patient. Additional liability can result from the failure of the facility to properly train and supervise employees.
Negligent supervision: Employees can be held liable when they fail to properly supervise residents, who end up causing injury to themselves as a result.
Failure to maintain health and safety policies: The facility can be held liable for failing to maintain clean and sanitary conditions in resident rooms, as well as in common areas.
Failure to provide adequate medical treatment: The facility can be liable if it provides substandard medical care to a resident, which causes harm to that resident.
General neglect of a resident: If an employee neglects a resident entirely, that resident could develop dire health conditions, of which the employee may be liable.
What does the lawsuit process look like?
Generally speaking, the typical nursing home negligence lawsuit proceeds in the following manner:
Filing: It is advised that you consult an elder law attorney before filing a lawsuit. First, the attorney will gather basic information about the case to determine whether a lawsuit can be filed. If so, he will file a complaint with the court that explains the senior's injuries and why the nursing home and its staff members are to blame.
Discovery: During the discovery phase, the two parties will begin collecting evidence to support their respective cases. This phase may include gathering medical records, witness statements, and testimonies from medical experts.
Settlement: After each side has built its case, they will usually meet to try and settle the lawsuit before it actually goes to trial. If a settlement is reached, the lawsuit will end and there will be no need to go to court.
Trial: If the case is not able to be settled out of court, it will go to trial. Each party will have an opportunity to present their case and either the judge or jury will decide who wins the case through a verdict.
Appeals: If it is determined that some legal error occurred during the trial process, the parties will have an opportunity to appeal the verdict. After a review, the appellate court will release an opinion which will either affirm the previous verdict, overturn it, or call for a new trial to be conducted. It is important to note that trials and appeals are very rare in these kinds of cases, as most of these cases end in settlement.
Do You Have Questions about Nursing Home Planning? Contact Our Boston Elder Law Firm
If you have additional questions regarding the nursing home planning process, please contact Fisher Law LLC. Our Norwood elder law attorneys are available to assist you today.