Do I Need A Power Of Attorney?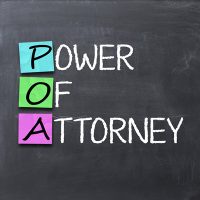 A Durable Power of Attorney is an essential document in an estate plan and should never be omitted.  Many believe they only need a Last Will and Testament, but without a Durable Power of Attorney and other similar documents, your loved ones may need to petition the Probate Court and appear before a judge seeking a guardianship and/or conservatorship in the event that you become incapacitated. Many are tempted to leave out the Power of Attorney for cost reasons, but not having a Power of Attorney will cost thousands more in court fees and attorney's fees if certain situations arise during your lifetime.    Also, many are under the misunderstanding that a Last Will and Testament covers all estate planning issues.  A Will only deals with matters after your death, while a Power of Attorney deals with matters while you are alive.  Because people live much longer today and manage health issues for many years or decades, a Durable Power of Attorney and other documents, such as a Health Care Proxy, are necessary components to a well-designed estate plan.
Note that you want to sign a Durable Power of Attorney, and not a Power of Attorney, as the Durable Power of Attorney will continue to be effective during the time that you are physically and/or mentally incapacitated.  If you sign a Power of Attorney and become incapacitated, the agent named in the document no longer has the authority to act on your behalf.
Power of Attorney
A Durable Power of Attorney essentially gives someone the authority to act on your behalf for specified financial tasks that you outline in the document.  For example,  you may give someone the authority, as your attorney-in-fact or agent named in the document  to access your bank accounts to pay your rent and utilities, sign contracts on your behalf for in-home health care services or services at an assisted living facility, manage financial investments, take required minimum distributions or RMDs, run a business, and sue someone during a period of time where you are unable to manage your financial affairs due to mental incapacitation from dementia or physical incapacitation from a car accident.   A Durable Power of Attorney can be "springing" or effective immediately.  If it is a springing Durable Power of Attorney, a condition(s) will have to be met before the agent will have the authority to transact financial tasks on behalf of the Principal., such as having an opinion letter from a physician stating that you are not capable of managing your financial affairs.    Springing Durable Powers of Attorney provide some protection against an agent exercising financial powers prematurely and diminishing an individual's independence.  They are used most often when the Principal is younger and would like to have some type of a safety value before an adult child would have permission to access financial accounts.  Where a Principal is elderly and there is a higher probability of health crises, it is prudent to have a Durable Power of Attorney that is effective when signed.    Regardless of whether your document is effective immediately upon signing or conditioned upon certain criteria, it is important that the agent(s) named in the document are trustworthy and will act in your best interest.
What is a Health Care Proxy?
A Health Care Proxy is an individual named under a document that has the responsibility to make decisions with regard to your health and medical care in the event that you become incapacitated or unable to do so.. You will want to choose someone who you trust to make these types of decisions for you.  That is, while you may choose someone who has some medical training and education, the agent should be one that can "step up to the plate" and make and execute very difficult decisions, such as "Do Not Hospitalize", "Do Not Resuscitate" after evaluating the medical information provided by health care professionals.  . To the extent possible, you should assist your health care proxy by making sure that you have discussed verbally with him or her your wishes about medical procedures, dying with dignity, and life prolonging procedures so that your proxy has some input as to what you would want in, typically never imagined, scenarios.
Not only should the document identify a capable, mature individual and alternates, but it should also be detailed as possible about the authority that such agent has and your thoughts and wishes about  any specific choices, such as not receiving blood transfusions, being placed on life support, pain and anxiety medications, etc.   Detailed written instructions and open discussions prior to any health issues will ensure that your preferences are honored even when you are not able to advocate for yourself.
Contact Fisher Law
If you want to designate agents for medical, financial, or estate planning reasons, the experienced Norwood estate planning attorneys at Fisher Law are ready to help. Contact Fisher Law today to schedule a consultation.
Source:
investopedia.com/articles/personal-finance/101514/power-attorney-do-you-need-one.asp