Do You Have a Signed Power of Attorney?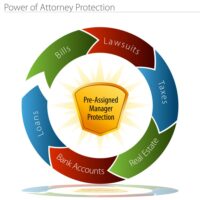 Wise incompetency planning usually includes the execution of a power of attorney. This document names an agent who can sign checks, pay bills and make other financial decisions in your stead.
FEDWeek's recent article, "Guarding against the Chance of Incapacity, " suggests that, rather than a "regular" power of attorney, you may prefer a durable power of attorney or a springing power of attorney.
A durable power of attorney can designate a trusted friend, a close relative or an advisor to sign documents, if you are unable to make knowledgeable decisions. These documents stay in effect, if you become incapacitated.
Springing powers of attorney take effect, only if one or more physicians say that you're incompetent, such as being unable to handle your own financial affairs. It is important to remember that a springing power doesn't take effect as long as you're competent.
While there are some costs involved in executing a power of attorney, those legal fees will be fairly modest.
Your durable power of attorney document must be notarized, but it doesn't necessarily need to be recorded anywhere, unless required by state law. You select the individual you want to handle your affairs, in case of incapacity.
You must have absolute trust in the person you name as your agent for these power of attorney documents.
It's important to know that there are financial institutions that will not accept your power of attorney form, because they require the use of their own forms. Be proactive and send a copy of your power of attorney to each of your banks, brokers, mutual funds and other account administrators to determine whether there will be any problem. It's better to know in advance and be prepared than to have your designated person unable to act on your behalf.
In addition, some companies don't want to recognize old powers. You can provide an expiration date on the document and update it every year or two, to be sure that it's consistent with your current wishes.
Reference: FEDWeek (January 17, 2019) "Guarding against the Chance of Incapacity"