Estate Planning Basics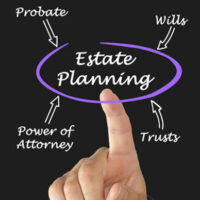 Everyone should have a plan for their estate in the event of their death. You may be thinking, "I don't own an estate." However, your estate consists of everything you own, including your car, your home, checking and savings accounts, life insurance, real estate, furniture, and personal possessions. Estate planning is extremely valuable, as it helps to ensure that your estate is distributed according to your wishes in the event of your death. The following article will provide some helpful information regarding the benefits of estate planning and a few tips one should consider during the process.
What Are the Benefits of Estate Planning?
Estate planning describes the process of making a plan to determine what happens to your estate in the event of your death. If you have certain property in your possession that you want to go to a specific person or property that you would prefer a particular family member not to have, these are things that you can stipulate during the planning process. Estate planning can also be beneficial for some of the following reasons:
You can name a guardian for any minor children you may have
You can provide for a family member who is irresponsible with money or one who has special needs
You can ensure that any businesses you have are properly transferred in the event of your retirement, disability, incapacity, or death
You can establish arrangements to receive disability income insurance to replace your income if you cannot work due to illness or injury; long-term care insurance in case of an extended illness or injury; or life insurance to ensure that your family is provided for in the event of your death
You can minimize estate taxes and excessive legal fees
Estate Planning Tips
Now that you know some of the benefits of estate planning, there are some recommended tips that you should consider. These are:
Make a will. It is extremely important to make a will. Having a will ensures that your assets are distributed according to your specific wishes and limits contentious litigation over purported ownership of these assets. If you die without a will, your estate will go to probate, which means that the court will have to distribute your assets based on state law rather than according to your wishes. Additionally, your family will likely be the ones to pay for these court proceedings.
Check and update your beneficiaries. Even if you make a will, there are some assets that will not be distributed under that will. For example, life insurance policies and retirement funds allow individuals to name specific beneficiaries, and as such, these types of assets are not distributed according to a will. The named beneficiaries on these accounts will supersede the conditions of a will. As such, you should ensure that you consistently update your named beneficiaries after each birth or death. This will ensure that all intended beneficiaries are included and will prevent unnecessary issues in the event that an earlier named beneficiary is no longer alive.
Set up a trust. A trust can be helpful as it allows you to provide for specific family members both during your lifetime and thereafter. You can even put stipulations on the trust, which could prove beneficial in the event that you have family members who are irresponsible with money that you still want to provide for (for example, a stipulation could be that the child you establish the trust for cannot access the trust until he turns 35).
Do You Need Help with Estate Planning? Speak to a Norwood Elder Law Attorney
Estate planning can be a very complicated endeavor. If you need help with estate planning, Fisher Law LLC can provide assistance. Our skilled Norwood estate planning attorneys are prepared to help you today.
Source:
money.usnews.com/money/retirement/articles/estate-planning-tips-to-keep-your-money-in-the-family