Special Needs Planning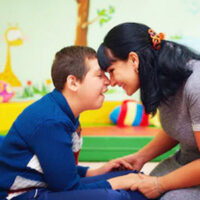 If you are a parent of a child with special needs, you should have a plan in place to ensure that your child will be provided for in the future in the event that you become unable to continue providing care. The following article will provide some information about the concept of special needs planning.
What is Special Needs Planning?
Special needs planning is the process of developing a future plan for a person with an intellectual or developmental disability. This is crucial because it ensures that the person with special needs is provided for in the event that a parent, guardian, or other caretaker becomes unable to provide care for this person. A future plan should be created with input from the person with special needs, his parents, caregivers, doctors, siblings, and any other people who are important to him and are crucial to his future success.
What Should a Special Needs Future Plan Include?
A future plan should include details regarding every aspect of the person's daily life, including some of the following:
Living arrangements
Finances (including public benefits, income, assets, trusts, and insurance policies of both the special needs person and the family)
Daily routines, needs, and supports
Decision-making support
Doctor's contact information and medical history information (for example, known allergies)
Details regarding employment, volunteer work, education, religion, and social life
How Can I Ensure That My Child's Needs Are Addressed if I Can No Longer Provide Care?
The purpose of a future plan is to equip your child's future caregiver with the knowledge and experience you have obtained while caring for your child over the years. If you become unable to care for your child, a new caregiver will need to rely on your wisdom to ensure that your child's every needs are met. This is why parents of special needs children should create a Letter of Intent during the future planning process. A Letter of Intent should provide as much information as possible about the specific needs of your child and can include any of the following information:
A summary of the life of your child to date and your general desires regarding the future of your child
Important family history information, including which family members and/or family friends your child is particularly fond of
Medical history information, including a detailed description of your child's special needs, any known allergies, any medications being taken, and a list of routine medical/therapy appointments
Information regarding your child's daily routine, including any chores, special meals, required schoolwork, and extracurricular activities
Information regarding any employment or volunteer work that your child is engaged in
Information regarding your wishes about your child's final arrangements (i.e. burial, cremation, etc.)
Any other information that you believe will be helpful for a future caretaker to know to better assist your child
Do You Need Special Needs Planning Assistance? Our Firm Can Help
It is crucial to develop a future plan for children with special needs. If you need assistance with special needs planning, our firm can help. Reach out to the skilled Norwood special needs planning lawyers at Fisher Law LLC today for a consultation.