Estate Planning Tips For Long-Term Cohabitating Couples In Massachusetts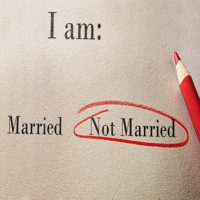 A growing number of couples are spending their lives together without ever technically getting married. The Pew Research Center reports that more than half of Americans live with a long-term, unmarried partner at some point during their lives. Long-term, unmarried couples have some unique estate planning needs. It is crucial that you and your partner have the proper structure in place. Here, our Norwood estate planning attorneys highlights three actionable estate planning tips for long-term, unmarried couples in Massachusetts.
No Automatic Rights for Unmarried Partners in Massachusetts 
As a starting point, it is crucial that unmarried couples understand how the law works in Massachusetts. A spouse becomes an automatic heir under Massachusetts law. There are no automatic estate planning rights for unmarried partners when it comes to inheritance or decision-making in the event of illness or death in the Commonwealth. In other words, in the eyes of the law, your partner—even if you have been together and lived together for many years—has no automatic rights unless you take action to establish those rights.
An Estate Plan is a Must for Long-Term, Unmarried Couples 
With the knowledge that Massachusetts law provides no real automatic protection for unmarried couples, it is crucial that you take proactive measures to put a comprehensive and customized estate plan in place. There is nothing preventing you and your partner from building estate plans that give each other the full rights that a spouse would have. When crafting an estate plan as an unmarried couple, you should consider the following:
A will;
Trusts;
Power of attorney (POA);
Health Care Proxy; and
HIPAA authorization.
Ultimately, estate planning is about control. You can set up your estate plan to meet your specific goals and needs—no matter your situation. A Massachusetts estate planning attorney with experience working with unmarried couples can help you put the best structure in place. 
Review and Update Your Beneficiary Designations 
Beneficiary designations are one of the most overlooked aspects of estate planning. If you have a retirement account, life insurance policy, or any other account that can be assigned to a beneficiary, you should make sure that your designations are fully up-to-date. As a part of an unmarried couple, you may want to make your partner your beneficiary. They can do the same. When set up properly, a valid beneficiary designation allows the proceeds of an account to pass directly to a selected heir—meaning it can avoid the Massachusetts probate process.
Consult With Our Norwood, MA Estate Planning Attorney Today
At Fisher Law LLC, our Massachusetts estate planning lawyers provides personalized, reliable guidance and support to clients. If you have any questions about estate planning as an unmarried, long term couple, we can help. Contact our law firm right away for a completely confidential, no obligation consultation. From our Norwood law office, we provide estate planning services throughout the wider region, including in Walpole, Dedham, Westwood, and Boston.
Source:
pewresearch.org/fact-tank/2019/11/06/key-findings-on-marriage-and-cohabitation-in-the-u-s/#:~:text=1%20A%20larger%20share%20of,National%20Survey%20of%20Family%20Growth.