How Do I Know If My Will Is Legally Valid?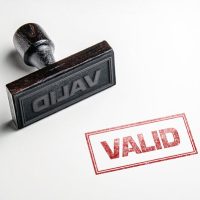 If you have a Massachusetts Last Will and Testament or Will, congratulations, you're already ahead of the curve. However, just because you have a Will doesn't mean that it will be enforced in the appropriate probate court. It must also be found legally valid. There are a number of Massachusetts legal requirements for Wills that must be met in order for the Will to be valid and enforceable. It's important to make sure that these requirements are satisfied if you want your wishes to be honored.
Requirements for a Massachusetts Will
In order for your Will to be valid in Massachusetts, you must be competent, over the age of 18, and have signed a written Will in the presence of two witnesses. Any wishes that are expressed verbally will not be honored or considered by the probate court, so it's important to make sure that all of your wishes are included in your Will. Your witnesses must both be competent, 18 or older, and may not also be a beneficiary of the Will. They must both be disinterested parties, and must sign the Will in the presence of you (the testator) and each other. You should also make sure that someone knows where to find your Will, or that it is stored in a place that people would be likely to look at. If your Will cannot be located, it still can be offer for probate, as the law allows for the filing of a Last Will and Testament.  When a copy of a Will is offered for probate, the case has to be filed as Formal Probate.  The Informal Probate process is not available under these circumstances.  If you are physically unable to sign your Will, you may instruct someone else to sign it on your behalf without compromising the Will's validity.
How Is My Will Determined Valid?
After someone passes away, their estate proceeds to be settled in probate court. If the individual has a Will (original or copy) , their Will  be reviewed by the probate court in order to determine whether it is valid. In order to be valid, the Will must meet all the requirements noted above. Additionally, if any potential beneficiaries believe that the Will is invalid, or that it was created under duress or undue influence, they can challenge the Will. If the validity of a Will is challenged, the court will have to review all the evidence in order to determine whether the Will was made freely and voluntarily by a competent adult. If the Will is determined to be invalid, then the testator's estate Will be distributed in compliance with Massachusetts' intestate succession statutes.
Can I Avoid Probate?
As you may have noticed, probate can be a stumbling block even for those with valid Wills. The only way to avoid probate is by having a comprehensive estate plan that utilizes trusts, survivorship rights, and other estate planning tools that allow all of your assets to be transferred into the ownership of a trust or loved one prior to or immediately upon your death. This can easily be accomplished with the assistance of an experienced estate attorney.
Contact Fisher Law, LLC to Schedule a Consultation
If you want to make sure that your Will is valid and enforceable, the experienced Norwood estate planning attorneys at Fisher Law, LLC are ready to help. Contact us today to schedule a consultation.
Source:
mass.gov/info-details/massachusetts-law-about-wills-and-estates