How To Establish A Valid Will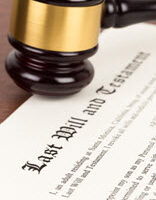 All adults should have a will that properly disposes of any property in their possession at the time of their death. Establishing a will is important as it can help ensure that your loved ones do not have to argue in court about who is entitled to your property after you pass. The following article will discuss the process for properly drafting a valid will.
Why Do I Need a Will?
There are several valid reasons why having a will is recommended. Some of these reasons include the following:
A will allows you to specify who gets your assets and in what amount
A will allows you to keep your assets from people you don't want to have them, such as an estranged relative
A will allows you to establish someone to care for your children; if you die without a will, the courts will decide What is the Process for Creating a Valid Will?
To ensure that your will is valid, you should adhere to the following steps:
Create the will document. The first step is to actually draft the will document. While there are several online sites you can use to draft a will, an estate planning attorney can address the specific goals that are unique to your family, such as disinheriting an estranged child, providing for minor beneficiaries through a stand-by trust, providing for special needs beneficiaries, and plan for various contingencies that are unlikely presented in an online site's interview.  After you draft the will, make sure you review it to ensure that the document adequately reflects your wishes.  Using an estate planning attorney to draft your estate planning documents will ensure that they are robust and tailored to your goals and family dynamics.
Gather witnesses. You will need to find two people to witness you sign the will and who will also attest to this fact by signing the document themselves. Some considerations regarding witnesses include the following: witnesses must be at least 18 years old; witnesses may have to testify in the future regarding whether or not you had the capacity to make rational decisions at the time you signed the will; and it would be wise to find witnesses who do not inherit anything under the will.
Obtain a notary public. Wills do not necessarily need to be notarized in order to be considered valid. However, it is recommended to add a "self-proving affidavit" which does need to be signed before a notary public. This kind of affidavit asserts that witnesses watched you sign the will and that you appeared to have the required mental capacities during the signing of the will. This is important because it can simplify the process of having your will admitted to probate.
Get all the parties together. Get the notary public and the witnesses together in the same room and explain to the witnesses that you need them to sign the will and affidavit. Ensure that you inform the witnesses that you are of a sound mind and that you have read the document in its entirety and fully assent to its terms.
Sign the will and affidavit. With the parties present, put your initials on the bottom of every page and sign your full name on the signature line on the last page before the witness and notary sections.  It is recommended that you use blue ink to make it easy to tell the difference between the original document and any photocopies. Afterwards, have the witnesses sign the will in the designated section. If you have a self-proving affidavit, ensure that the witnesses sign before the notary public. At this point, you have completed the process to establish a valid will. Make sure you store the will in a safe place, such as a locked drawer or deposit box.  It is recommended that estate planning documents, if kept in your home, be stored in a fire and water-proof safe or sleeve.
If You Need Help Drafting a Proper Will, Speak to a Norwood Estate Planning Attorney Today
If you need help drafting a will, Fisher Law LLC is here to help. Our firm has extensive experience in all areas of estate planning and as such, we will ensure that you are able to create a will that meets your expectations. Please contact us today to schedule an initial consultation with one of our knowledgeable Norwood estate planning attorneys.