Should I Create A Living Will?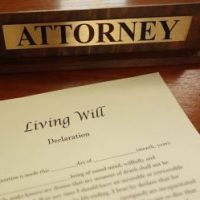 As we age, estate planning becomes ever more important. A well-constructed estate plan can protect you, your family, and your finances—no matter what tomorrow brings. A Living Will is often a key estate planning document. You may be wondering: Do I need a Living Will? Here, our Boston estate planning attorneys answer the question by explaining what a Living Will is and highlighting the key benefits that come with including a Living Will as part of your estate plan in Massachusetts.
What is a Living Will? 
As a starting point, it is important to understand what a Living Will actually is and how it works in practice. It is not the same thing as your actual will (last will and testament). Instead, a Living Will is a legal document focused on your health care, should you become incapacitated. The National Institute on Aging defines a Living Will as the estate planning document that "tells doctors how you want to be treated if you cannot make your own decisions about emergency treatment."
The Benefits of Drafting a Comprehensive Living Will 
Is a Living Will a good option to include in your estate plan? It can be for many people. Here are some of the specific advantages of drafting a Living Will as part of your Massachusetts estate plan:
Provide Clear Instructions: A Living Will provides explicit directions regarding preferred medical treatments, end-of-life care, and the use of life-sustaining measures. This clarity helps healthcare providers know precisely how to proceed in the absence of the patient's ability to communicate.
Preserve Your Autonomy: By detailing specific preferences in a Living Will, individuals retain control over decisions related to their healthcare. They can tailor the document to reflect their values, religious beliefs, or personal preferences.
Reduces Burden on Family: Without a Living Will, family members may face agonizing decisions about medical treatments without knowing what their loved one would have wanted. A Living Will can reduce the burden.
Prevents Disputes: In situations where family members might disagree about what actions to take, a Living Will clearly outlines the patient's wishes, thereby helping to prevent potential disputes.
Health Care Proxies) Can Supplement a Living Will 
As valuable as a Living Will can be, you  can should also have  a Health Care Proxy as part of your estate plan.  A Health Care Proxy designates a trusted individual  to act as your agent if you are unable to make health-related decisions.    Unless specified in the document, a Health Care Proxy cannot override the instructions in a Living Will.    A Health Care Proxy provides broad, yet delineated, authorization to act for an incapacitated individual, for example, to administer medications, arrange for hospice care, etc.   A Living Will, however, provides instructions to the Health Care Proxy and to the patient's loved ones, about their wishes and instructions for end-of-life issues.   While both documents are essential, without a Health Care Proxy and no one legally appointed to make health care decisions, a guardian would need to be appointed and a Petition filed for the appointment of such individual in the appropriate Probate Court.  It is a time inefficient and costly process during a time where a family and loved ones should be focused on health care and not an unexpected court proceeding. 
Schedule a Confidential Consultation With a Top Boston Estate Planning Attorney
At Fisher Law LLC, our Boston estate planning attorneys provide solutions-focused legal guidance and support to clients. If you have any specific questions or concerns about drafting a Living Will, Health Care Proxy, or Guardianship/Conservatorship procedure, please do not hesitate to contact us today for a confidential initial appointment. We serve clients throughout the Greater Boston area, including in Norwood, Westwood, Dedham, Sharon, Canton and Walpole.
Source:
nia.nih.gov/health/preparing-living-will