What Do We Know about Early-Onset Dementia?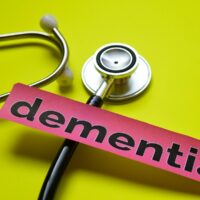 Rita Benezra Obeiter, 59, is a former pediatrician who was diagnosed several years ago with early-onset dementia, a rare form of the disease. When this occurs in people under age 65, the conditions cause additional and unique issues because they are so unexpected and because most of the potentially helpful programs and services are designed for and targeted to older people.
One issue is that doctors typically don't look for the disease in younger patients. As a result, it can be months or even years before the right diagnosis is made and proper treatment can start.
WLNY's recent article entitled "Some Health Care Facilities Say They're Seeing More Cases Of Early-Onset Dementia Than Ever Before" reports that her husband Robert Obeiter left his job two years ago to care for her. She attends an adult day care, and aides help at home at night.
If Dementia is a generic term for diseases characterized by a decline in memory, language, and other thinking skills required to perform everyday activities, Alzheimer's is the most common. The National Institute of Health reports that there's approximately 200, 000 Americans in their 40s, 50s, and early 60s with early onset Alzheimer's.
One conference discussed a rise in early dementia because of the processed foods and fertilizers or the other environmental hazards, and there are definitely some genes more associated with Alzheimer's—more so with early onset."
There is no clear answer, and most of the treatments help to slow down the progression.
There is some research showing the Mediterranean diet can be protective, as well as doing cognitive exercises like crossword puzzles and Sudoku.
It's true that no one can predict the future of their health, but there are ways financially that families can prepare. It can cost $150, 000 a year or more. That's why you should think about purchasing long term care insurance starting at the age of 40.
Long-term health insurance can pay for an aide to come into your home, and it can pay for the cost of assisted living, as well as off-set the cost of skilled care at a nursing home. In Massachusetts, the average cost of memory care at an assisted living is $8, 000 per month and $15, 000 per month at a nursing home. Health insurance does not cover long-term care, nor does Medicare. While everyone over the age of 18 needs a healthcare power of attorney and a financial POA, as we approach our 50s and 60s, consideration should be given to long term care planning. An elder law attorney can assist you in outlining options and establishing a long term care plan that protects your assets from the devastating financial effects of long term care that enables you to create a legacy for your family and loved ones.
Reference: WLNY (Feb. 12, 2020) "Some Health Care Facilities Say They're Seeing More Cases Of Early-Onset Dementia Than Ever Before"