What Happens If A Primary Beneficiary Dies?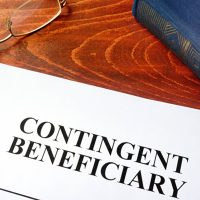 Many people like to avoid making a will because they don't like to think about their own death, let alone the deaths of others. However, when it comes to creating an effective estate plan it's important to consider what might happen if your beneficiaries do not survive you, so that you can plan for it.   A well drafted estate plan plans for certain contingencies, however, unlikely they may appear at the time of drafting.  After all, the point of an estate plan is to be able to exercise control over your assets and who receives them. If your intended beneficiaries are no longer available, you still have the power to determine who you would want to receive the assets.
What is a Primary Beneficiary?
When you make a will, trust, or other estate planning device, you will designate beneficiaries to receive your assets. The primary beneficiaries are the beneficiaries who will receive their share of your estate under the specific provisions of the controlling document. If the central document in your plan is a will (because you did not create a living trust), the will will need to be offered for probate.   The probate court will appoint an individual called the Personal Representative who will have the responsibility to gather all of the decedent's assets and then settle the estate.  Settling an estate involves paying all debts and liens, as well as taxes, before the remaining assets can be distributed to named devisees in a will or named beneficiaries in a trust. Designating someone as a primary beneficiary generally ensures that they will receive a share of the estate provided they are alive at the time of the decedent's death.  If they are not alive at the time of the decedent's death, the decedent may have made provisions for a contingent beneficiary or beneficiaries.  For example, "I give 20% of my estate to my sister, Mary.  In the even that Mary is not alive at the time of distribution, I give Mary's share to her children, John, Jacob, and Sally, in equally shares, or the survivor of them." 
What Happens if a Primary Beneficiary Dies?
If you have not included a plan for beneficiary death in your will or estate plan, their death may result in their share of assets being returned to your estate.   This may result in the share being distributed in accordance with the state's intestate stature.  That means, you get the state's rule and design, and not yours.    For example, if your Will provided for the distribution of your entire estate to your sister Mary and she were not alive, if the intestacy laws were applied, Mary's share may be shared with your brother Hal, whom you have not spoken with in 40 years.    Unless that is an outcome that you are comfortable with, it's important to make a plan. Of course, if you are aware that one of your beneficiaries has passed away, the best thing to do is contact your estate attorney to amend your existing will and other documents of your estate plan. This can easily be done, and it is always a good idea to update your estate plan every few years just to make sure that your beneficiaries are all still accurate. Many life changes can require updates to your will, including divorce and death.
Contact Fisher Law in Boston, Massachusetts
If you need to create a will or update an existing one, the experienced Norwood estate planning attorneys at Fisher Law are ready to help. Contact us today to schedule a consultation.
Source:
investopedia.com/terms/p/primary-beneficiary.asp