Do I Need A Health Care Proxy For My College Student?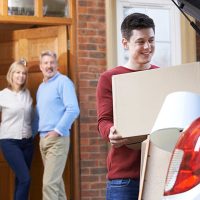 If your college student is heading off to school for the first time this fall, you may have spent most of the summer busy preparing by buying dorm room essentials and textbooks. One thing that might not have made your "To Do" list is executing a Health Care Proxy  for them. While legal documents may not be on your radar, they should be. As most college students are legal adults, parents will not have the authority to make medical decisions on their behalf should they become seriously injured or incapacitated. No one likes to think about worst case scenarios when it comes to college, but having the peace of mind of knowing that if something terrible happens you will still be able to care for your child is important.
Understanding Health Care Proxies
A Health Care Proxy is a legal document that gives one individual the power to make medical decisions on behalf of another in the event that they become incapacitated. A Health Care Proxy only goes into effect if medical professionals determine the individual is incapacitated and unable to make decisions for themselves. This means that a medical power of attorney can exist for years without ever being used. This is important for college students to understand, as they may otherwise be resistant to giving their parents too much power. However, a Health Care Proxy will not give parents any power unless their child has already been determined by medical professionals to be unable to make decisions on their own. Additionally, Health Care Proxies can be created for a limited period of time, such as the period of time that your child is in college. One more thing to understand about Health Care Proxies is that they are only valid in the state that they are executed for. This means that if your child goes to college in another state it will be important to execute a Health Care Proxy or similarly named document for that state, as well as the Health Care Proxy for Massachusetts.
Why to Get a Health Care Proxy for Your College Student
Without a Health Care Proxy, doctors and medical professionals will have the power to make decisions for your child without asking your permission or considering your perspective. If your family has certain religious views or you know that your child would have preferences when it comes to their care, it is important to make sure you have the ability to exercise decision-making authority in their best interest. Additionally, most parents also just want to be able to feel like they have the ability to care for their child, for example, if a child were seriously injured and needed to be transferred to a health care facility for a longer period of time than the typical hospital stay, parents may want the legal authority to choose the facility and its location.
Contact Fisher Law, LLC Today to Schedule a Consultation
If you want to create a Health Care Proxy or a comprehensive estate plan, contact the experienced Norwood estate planning attorneys at Fisher Law, LLC today and schedule a consultation.
Source:
investopedia.com/articles/managing-wealth/042216/medical-vs-financial-power-attorney-reasons-separate-them.asp