Handling Creditors In Probate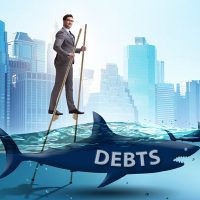 One of the biggest issues that must be handled during the Massachusetts probate process is managing creditor claims. This can be an overwhelming process on your own, especially if you have little experience as the administrator of an estate, which is where hiring a knowledgeable probate attorney can be incredibly beneficial. At Fisher Law, our experienced Norwood probate lawyers are here to help with this and any other issue that may arise during the probate process. To learn more about the wide array of legal services offered to our clients navigating the probate process, call or contact our office today.
Timing of Creditor Claims 
After a person has passed away, their estate enters into probate. During the probate process, if the person owed a debt that had not been paid during their lifetime the creditor can bring a claim against the estate. Typically, creditors have one year after the person's passing to bring their claim for payment. This window begins on the date of the person's death and not when notice was provided about the passing.
However, if a probate has not been commenced before the one-year date of death anniversary, a creditor under Massachusetts law can file a probate and preserve its claim prior to this deadline.   This one year date of death deadline, however, does not apply to MassHealth as a creditor against the estate of a decedent who received assistance during his or her lifetime.
Priority of Claims 
Not all creditor claims are created equal, and sometimes the priority status of a creditor's claim may determine whether or not the debt is paid from the estate. This is particularly true when someone dies with so much debt that their estate is not able to pay it all off with the remaining assets. Usually secured debts that had collateral provided by the debtor have first priority in the probate process. After that, unsecured creditors have secondary priority and are paid if there are assets remaining after the secured debt is paid off. Examples of unsecured debt is collection for unpaid credit card debt, whereas secured debt is a mortgage secured by the collateral of the home.
Other Creditor Issues 
Besides the timing filing of creditor claims and prioritizing creditor claims to an estate, there are other creditor issues that may arise during the probate process. One common issue is when there is a dispute of whether a creditor is owed a debt by the estate or there is a discrepancy in how much is owed. For all these issues, having an experienced probate attorney is critically important to protecting the interests of the estate. As a personal representation or administrator, hiring a lawyer can also protect you from claims of mishandling the estate. To learn more about how a probate attorney can help with creditor claims and other issues, talk to our office today.
Call or Contact Us Now
Creditor claims are one of many issues that often arise in the Massachusetts probate process. To learn more, call or contact our office today at Fisher Law to schedule a consultation of your case.