How Do I Know If My Elderly Parent Needs A Caregiver?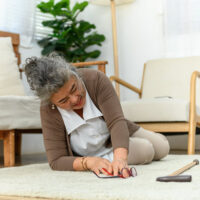 As they age, most elderly individuals will get to the point where they become unable to do certain things for themselves. In these cases, they may require a caregiver who can attend to their specific needs. The following article will provide some factors for you to consider in determining whether your elderly parent needs a caregiver.
Mobility: You will need to evaluate your parent's mobility. A lack of mobility increases the risk of falling, which can be deadly for elderly individuals. In fact, the Centers for Disease Control and Prevention (CDC) has reported that one in four elderly individuals will experience a fall each year. If you notice that your parent has significant mobility or balance issues, it may be necessary to obtain a caregiver to help your parent navigate around the house and complete household duties.
Mental health: If your parent is struggling with depression or dementia, you may need to obtain a skilled caregiver (one who is specifically authorized to deal with these mental health issues in elderly patients). If your parent suffers from a mental health issue, you might notice a change in energy levels, irritability, loss of interest, difficulty sleeping, or a change in eating habits.
Finances: You will need to determine how your parent handles financial matters. You should look out for stacks of unopened mail and unpaid bills, uncashed checks, and key home or legal documents that haven't been dealt with. Additionally, a major red flag to keep an eye out for include unusual transactions or large amounts of money going to charities.
Driving: If your parent is having trouble driving (for example, due to vision trouble) and has gotten into several accidents, a caregiver may be required to transport your parent from place to place. In less severe cases, the AARP Smart Driver course (which is available online or in a classroom) helps drivers aged 50 and older sharpen their driving skills. Additionally, your parent can contact the Independent Transportation Network of America (ITNAmerica), which is a national nonprofit network of community-based transportation programs for seniors aged 60 and older.
Appearance: If your parent's appearance has drastically changed (such as gaining or losing a significant amount of weight), you may need to be concerned. If you notice your parent has an odor, this could be an issue, as it likely means your parent has not been bathing or cleaning himself properly. A caregiver may be necessary to ensure that your parent's hygienic needs are met.
Medication: You need to make sure your parent's medication is being taken as directed and is being refilled as required. If not, you should consider obtaining a caretaker who will ensure that your parent takes his medication and that the prescriptions are refilled in a timely manner.
Are you in need of a competent elder law attorney? Contact our firm today.
If you need help with elder law issues, Fisher Law LLC can provide assistance. Our Norwood elder law attorneys have extensive experience and will ensure that you are provided with the proper information to accomplish your estate planning goals.
Source:
cdc.gov/features/older-adult-falls/index.html