How Should Parents Talk To Their Children About Estate Planning?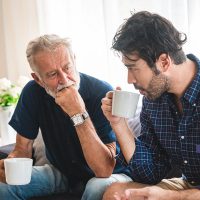 Estate planning is about preparing yourself, your family, and your assets for the future. A proper estate plan should be legally compliant—that is to say that you need all of the right documents in place. At the same time, effective estate planning is also about more than what is down on paper. Communication is key to estate planning—especially for parents who are involving their children in the process. Here, our Norwood estate planning attorneys offers some tips for parents to talk to their children about the estate planning process.
Try to Proactively Involve Your Children in the Estate Planning Process 
In many cases, it is a best practice to encourage your children to participate in the estate planning process. You may want to openly discuss your intentions and even seek their input. Estate planning can be an uncomfortable conversation for people, but it does not have to be that way. A proactive approach will help create a sense of collaboration with your children, allowing them to feel included and fostering a better understanding of the decisions being made. By involving them from the start, you can address any concerns or questions they may have, ensuring that everyone is on the same page. 
Make Sure that the Conversation is Age Appropriate 
When discussing estate planning with your children, it is crucial to consider their age and maturity level. You should always tailor the conversation to their understanding, using age-appropriate language and concepts. For younger children, focus on the basics, such as the importance of planning for the future. For adult children, delve into more specific details about your assets, beneficiaries, and the roles they might play. By adapting the conversation to their age and comprehension, you can effectively communicate your intentions and promote open dialogue. 
Be Certain that Your Core Goals/Wishes are Understood 
Clarity is key. With estate planning, an unclear estate plan is simply not a good estate plan—even if all of the legal documents are right from a technical perspective. When discussing estate planning. ensure that your children fully understand your core goals and wishes by being transparent and explicit about your intentions. Address your desires for asset distribution, long-term care, and any charitable donations. By being clear and consistent in expressing your wishes, you can minimize potential misunderstandings and conflicts among family members in the future. 
Do Not Give Children Responsibilities they Do Not Want to Take On 
It is important to respect your children's wishes when assigning responsibilities in your estate plan. For instance, if a child does not feel comfortable acting as your power of attorney, do not force the role upon them. It is neither good for you or your child to put them into a role that they cannot or will not perform. Instead, explore alternative options, such as appointing a trusted friend, sibling, or professional fiduciary. Recognizing and respecting your children's boundaries will lead to more effective estate planning and prevent unnecessary stress or resentment.  Alternatively, if a child is willing to serve as your power of attorney or health care proxy, it is important to confirm that they will be able to manage your financial affairs and/or make those very difficult health care decisions.  Everyone likes to be recognized for their financial aptitude or medical training , but you need to ensure that those tapped for these important roles will be able to "step up" and do the (at times) challenging tasks needed.
Get Help From Our Greater Boston Estate Planning Lawyer Today
At Fisher Law LLC, our Massachusetts estate planning attorneys are experienced and caring advocates for individuals and their loved ones.   We work hard to help our clients put the right plan in place for their specific needs, goals and family dynamics.  Contact us  to arrange your completely confidential consultation. Our law firm provides estate planning services throughout all of the Greater Boston area.