When Is It Time For My Dad To Give Up The Car Keys?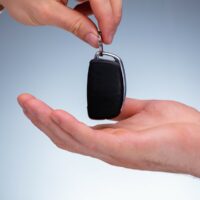 Because the odds of a fatal crash go up significantly at 70, adult children want to make sure their elderly parents do not become part of those unfortunate statistics. Taking a proactive approach to making certain that a parent or other vulnerable adult is still fit to drive is the key, says AARP in its recent article entitled "Is It Time for Your Loved One to Retire From Driving?"
Many seniors derive a sense of freedom and independence—perhaps even a source of pride from driving—so it's a sensitive subject. One option is to ask your parent's physician to broach the subject. If your loved one's physician doesn't bring up the topic, ask her to address it.
It's really not realistic to expect your aging parent to hand over the car keys at the appropriate time. Some might, but others will refuse. Experts say that as we get older, we are apt to develop a more positive outlook on things. However, this gives us a false sense of security when it comes to things like driving. However, normal aging is linked with decreased reaction time, vision problems and hearing problems—all of which place them at greater risk.
Some medical conditions —like arthritis, cardiovascular disease, dementia, glaucoma and macular degeneration, Parkinson's disease and stroke — can compromise a senior's driving abilities. The more prescriptions a senior takes and the more medical conditions a senior has, the greater risk when a senior gets behind the wheel.
In addition to the safety of an aging parent and other drivers, a senior who drives but shouldn't, may also put grandchildren at risk.
Some other reasons to be concerned about the senior's driving abilities include driving too slowly or too fast, getting lost in the neighborhood, a recent car accident or close call, difficulties with parking, getting tickets for driving violations and running red lights or stop signs.
One way to gauge an aging adult's driving capabilities is to run an errand with them. Some may also recognize some of the signs in themselves and realize that they've been feeling less confident driving under certain conditions.
You can always encourage your mother or father to have an older adult driving evaluation, which may be available at hospitals and administered by occupational therapists or driving rehab specialists. This evaluation won't affect their driver's license, which may ease a parent's reluctance to have one.
There are 33 states and DC that have special provisions for mature drivers. Some states require vision tests and might include in-person license renewals, more frequent renewals and road tests.
Reference: AARP (November 5, 2019) "Is It Time for Your Loved One to Retire From Driving?"