Why Communication Is A Key Part Of Estate Planning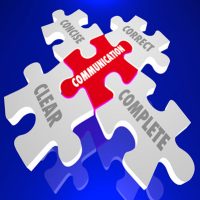 Setting up an estate plan is one of the most important things that you can do to protect your future.  Despite the importance of having a tailored and comprehensive estate plan, , the AARP estimates that 60 percent of individuals living in the United States lack  these essential documents.    Many people believe that it is sufficient to just have a Last Will and Testament without understanding the importance of ancillary documents, such as a Durable Power of Attorney and Health Care Proxy.  Last Wills and Testaments are only relevant at death.  People are living longer and may experience years or decades of health or competency issues requiring a Durable Power of Attorney or Health Care Proxy.  Without these essential documents during your lifetime, your loved ones will be seeking the assistance of a probate judge and need to attend one or more hearings in the probate court.    Alternatively, some individuals recognize the need for the ancillary documents, such as the Durable Power of Attorney and Health Care Proxy but believe that "one size fits all" and will purchase forms from office supply stores or access online services that may not produce robust and comprehensive documents produced from an attorney that specializes in estate planning.   Estate planning documents are not forms; they are customized documents that reflect your individual goals and wishes for yourself and address the unique characteristics of your family's dynamics.     In short, you need estate planning documents that serve your needs during your lifetime, not just at death.  In addition, these documents need to be comprehensive and tailored to you.    The likelihood of having robust and comprehensive documents that reflect your individual intentions from "off the shelf" forms bought at a store or generated from an online service is limited, as these options may not allow you to incorporate customized language drafted by an attorney whose service will include one or more meetings with you wherein you communicate the design your individualized plan.   In this article,  our Norwood estate planning attorney explains why communication is such an integral part of the estate planning process.
The Estate Planning Benefits of Proactive, Open Communication 
At its core, estate planning is a process that involves organizing and managing one's assets for the future, in order to ensure that they are distributed according to one's wishes after death. An essential aspect of estate planning is effective communication. Indeed, strong communication of your estate planning intentions can make the difference between a smooth transition and a major dispute. Here are some specific reasons why communication is a key part of estate planning:
Clarifying Goals: Communicating your estate planning goals and intentions with your family and beneficiaries helps them understand the rationale behind your decisions. Doing so with clarity can minimize confusion and prevent disagreements among family members when your estate is eventually distributed.
Identifying Potential Problems: By discussing your estate plan with your family and financial advisors, you can identify and address potential problems before they arise. This might include tax implications, unforeseen family dynamics, or the need to update beneficiary designations on insurance policies and retirement accounts.
Reducing the Likelihood of Disputes: When family members are aware of your estate plan and the reasons behind it, they are less likely to contest its provisions. Open communication can reduce the likelihood of costly and time-consuming legal disputes that can strain family relationships.
Easing the Burden: Losing a family member is an emotionally challenging experience. By effectively communicating your estate plan, you can help ease the burden on your loved ones by providing clear instructions and reducing uncertainties.
Ensuring the Proper Management of Assets: A well-communicated estate plan can help ensure that your assets are managed according to your wishes during your lifetime and after your death. This can include decisions related to investments, charitable giving, and the distribution of assets to beneficiaries.
Promoting Harmony: Clear communication about your estate plan can promote understanding, empathy, and harmony among family members. By addressing conflicts and explaining your rationale, you can help preserve family unity during a difficult time. 
Consult Massachusetts Estate Planning Lawyer for Immediate Help
At Fisher Law LLC, our Massachusetts estate planning attorney is committed to delivering reliable, solutions-driven legal guidance and support to clients. Have questions about estate planning and communication? We are here as a legal resource. Contact us right away to arrange your strictly private, no strings attached consultation. From our Norwood office, we are well-situated to provide estate planning services throughout the Greater Boston area.
Source:
aarp.org/money/investing/info-2017/half-of-adults-do-not-have-wills.html