How To Recognize The Signs Of Elder Abuse In Nursing Homes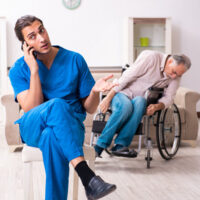 Elder abuse is especially common within nursing home facilities. In fact, about 5 million elderly individuals are abused each year. Additionally, 1 in 10 Americans over the age of 60 have attested to experiencing some form of abuse. It is important to recognize the signs of elder abuse and to report them to ensure that the elderly are being protected. The following article will provide Massachusetts law regarding elder abuse and provide some warning signs to identify elder abuse.
How does Massachusetts define elder abuse?
According to Massachusetts elder law, elder abuse is defined in the state as an act or omission which results in serious physical or emotional injury or financial exploitation of an elderly person (an individual who is 60 or older). Elder abuse also encompasses the failure or inability to provide for an elderly person one or more of the necessities which are essential for his physical and emotional well-being.
How can I recognize signs of elder abuse in nursing home facilities?
Just like with any other form of abuse, there are often several warning signs to indicate that an elderly person is being abused, even if that person does not or cannot verbally confirm this fact. Some warning signs of elder abuse include:
Unexplainable injuries (i.e. fractures, broken bones, cuts, or bruises)
Unsanitary living conditions (i.e. untreated bedsores, unchanged diapers, frequent infections, etc.)
Sudden changes in behavior, such as agitation or withdrawal
Malnutrition, as well as rapid weight gain or weight loss
Reluctance or outright fear of speaking freely when nursing staff is present
Patient is consistently sedated or on heavy medication
Patient is frequently ill but these illnesses are not reported to the family/caregiver
Unexpected and unexplained deaths in the nursing home
It is important to note that the presence of any of these warning signs is not by itself dispositive of whether an elderly person is being abused. As such, it is vital for family and other caregivers to consistently visit and talk to the elderly patient and the nursing staff to get a clearer picture of whether the patient is a victim of abuse. Knowing these signs will help you recognize abuse and put a stop to it before it is too late.
How can I report instances of suspected elder abuse in Massachusetts?
In order to report suspected elder abuse, neglect, or exploitation in Massachusetts, you can:
Call the Massachusetts Elder Abuse Hotline (1-800-922-2275)
Contact your local Ombudsman office (for contact information on local Ombudsman offices, please visit the Long-Term Care Ombudsman Directory)
Contact Fisher Law LLC  for All of Your Elder Law Needs
Elder law issues can sometimes be difficult to navigate. If you need some additional help understanding these issues, Fisher Law LLC is here to help. Our Norwood and Greater Boston area elder law attorneys are eager to assist you today.
Sources:
mass.gov/service-details/ombudsman-programs
nanha.org/resources/facts-statistics/