What Does An Elder Law Attorney Do?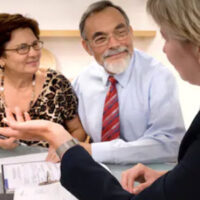 The following article will discuss the role of an elder law attorney, as well as provide some questions that you should consider asking during your first consultation.
What is elder law?
Elder law refers to various legal and practical issues which directly affect the elderly, their caretakers, and family members. Some common elder law issues include health care, elder abuse, estate and financial planning, and guardianship decisions.
What does an elder law attorney do?
An elder law attorney is an attorney who specializes in elder law. As previously mentioned, elder law is multi-faceted, meaning that an elder law attorney may specialize in multiple areas of elder law. The typical duties of an elder law attorney include the following:
Discuss the importance of wills and estate planning (including planning for a minor or adult with special needs, probate proceedings, and other matters)
Help you create a durable power of attorney
Provide help with health care and planning (including long-term care options and eligibility for VA Aid and Attendance and MassHealth to pay for those long-term care options, such as assisted living and skilled nursing care, patient rights, Medicare, and health care power of attorney)
Provide financial representation, which can consist of financial planning (including a durable financial power of attorney), housing opportunities and planning, income, estate, and gift tax matters
Help with the selection and appointment of a legal guardian
Help locate long- term care facilities and manage assisted living costs
Explain nursing home resident rights and help file nursing home claims
Draft a living will or other advance directives (including a durable power of attorney and long term planning documents)
What are some questions I should ask an elder law attorney?
Prior to or during your first consultation appointment with an elder law attorney, you should consider asking some of the following questions:
"How much of your practice involves elder law?"
"How long have you been practicing elder law?"
"How much of your elder law practice involves matters involving pre-planning, crisis eligibility, applications, probates, trust administration, family members with special needs, and unique circumstances similar to mine?"
"When was the last time you handled a case like mine?"
"Will you personally handle my case or will it be assigned to another attorney or paralegal?"
"Do you belong to professional organization or bar associations that provide continuing legal education in elder law? "
"What are your fees and when are they required to be paid?"
"Do you charge a flat or hourly rate?"
"After my estate planning documents are signed, will your office assist in funding of any trusts and assist with any on-going trust administration to ensure eligibility in 3 or 5 years, depending upon program eligibility requirements?
"What is your process in drafting planning documents, assisting in eligibility, and apply for benefits, such as MassHealth?"
Are you in need of a competent elder law attorney? Contact our firm today.
If you need elder law help, Fisher Law LLC can provide assistance. Our knowledgeable Norwood and Greater Boston area attorneys will ensure that you are provided with the proper information to accomplish your estate planning goals.